This time I thought to void the conventional way of predicting growth. Internet search keywords - Google Trends gives us an ability to check what people are looking for, it is very useful tool for many researches and analysis and I highly recommend it to the businessmen.
I did a simple exercise, I analyzed keyword 'Georgia's (Country of) statistics. For business or leisure, for good of bad literally every search starts with the country name, and that was the logic behind my choice. I assume there might be still many folks those do not use Google Trends yet thus let me first show that it really works. Batumi (summer) and Gudauri (winter) are most demanded Georgian resorts, we all know; also, we know the number of visitors in Georgia have been increasing steadily over the past years, below you will see how it is reflected in Google searches:
Blue line corresponds to Batumi and you see its search heats every summer, red line is Gudauri and it peaks right opposite to Batumi, while orange line – Tbilisi (Capital city) has steadier growth with higher hits in summer (I used Russian keywords, because significant number of potential tourists from our neighboring countries are using Russian).
This chart shows two obvious things: Google Trends works good and tourism in Georgia is on the rise, assuming its role into the economy we can already say 2017 will be better than the previous years.
Let's see 'Georgia' now. Here I present its English version only, however I tested it in Georgian, Russian, Turkish, Persian and Arabic, still I discovered English keyword is more widely used despite country of origin.
It shows the country's search is steadily increasing over the years, also it shows one unpleasant fact the country is noticed a lot due to disastrous events, such were the Russo-Georgian war in August, 2008 and Tbilisi flood in June, 2015. Because 13 years trend line is too tight to see the latest bits I switched to 5-years stats.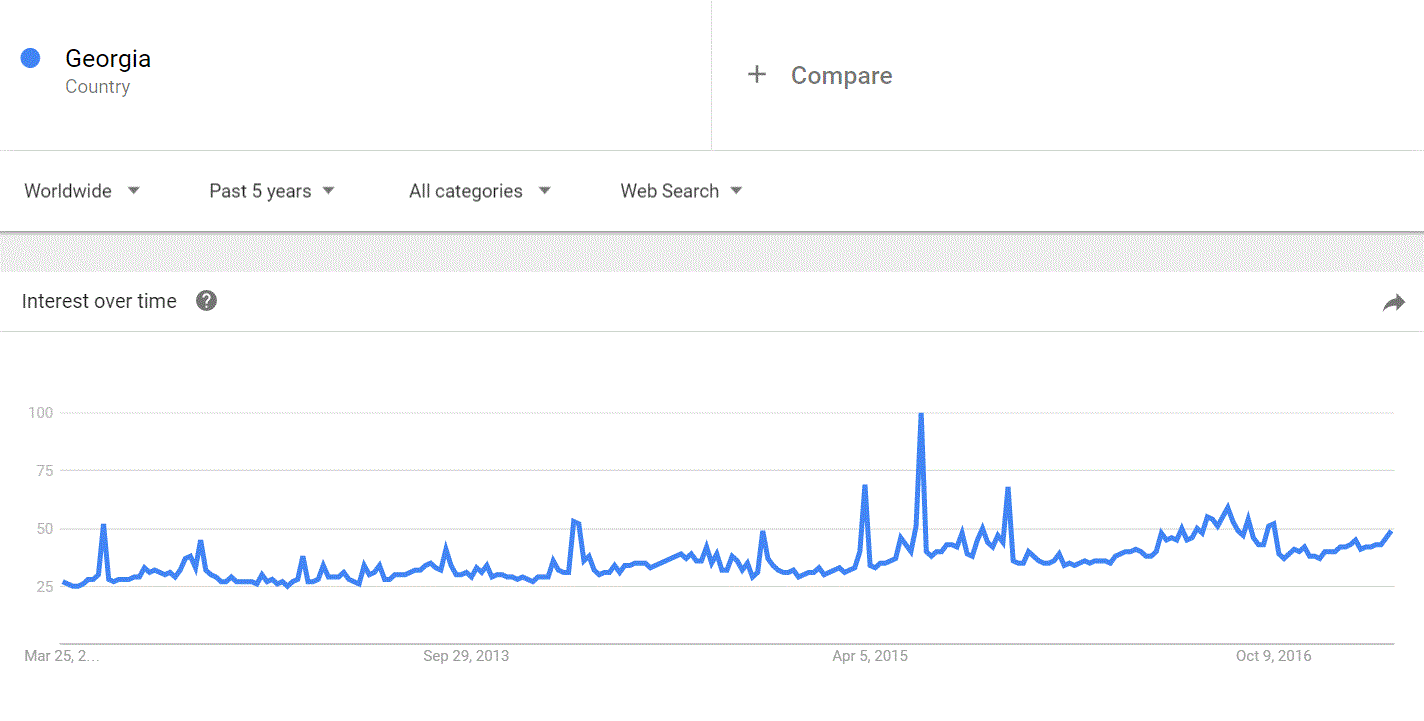 If we exclude unpleasant spike in June 2015 (Tbilisi flood) and other hits mostly related to the politics (elections) we see situation changed a lot already in 2016, and the number of searches in January 2017 are almost the same as the highest picks in 2012-2013.
Most of the rise is coming from the neighboring countries, which you can see below on searcher's city origination chart:
It is interesting to check some largest trade and investment partners originated searches for 'Georgia'.
It seems Turkish interest towards Georgia lowered a lot during the war and crisis year, 2008 and only returned in 2013, while over the past 4 years it shows strong upward trend.
Another very important travel and investment partner for Georgia, the United Arab Emirates is on high rise.
Their interest for Georgia almost zeroed during the war and the international crisis, however we are receiving lots of attention from the emirates already from 2015 and its growing up.
Overall it is obvious 'Georgia' gets lots of attention these days. There is no need to be a research guru to understand the tourism and some other sectors are doing well. Thus, I believe 2017 can well be a beginning of second breakthrough for Georgian economy.
Please reload